Pastoral Staff
Jan 2, 2018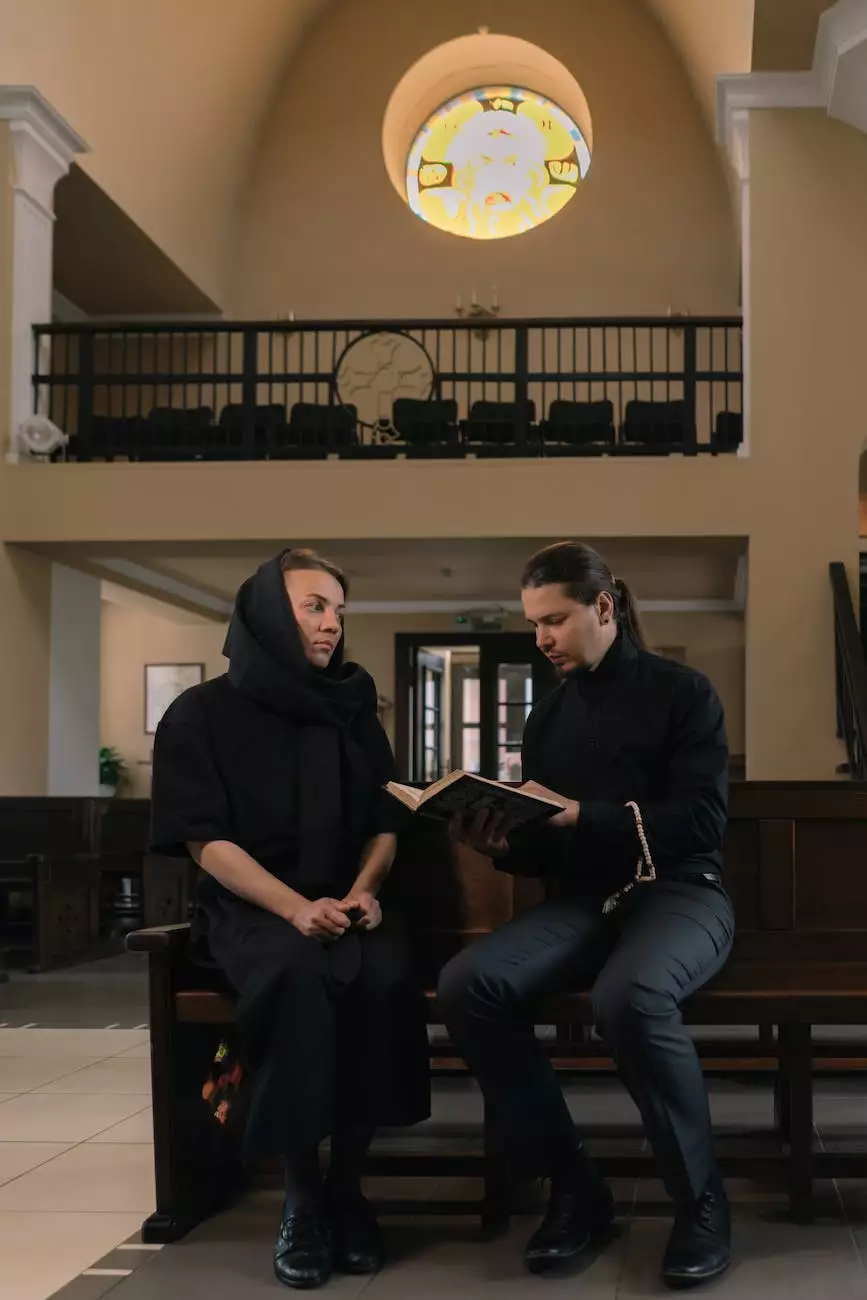 Meet Our Passionate Team
Welcome to Central Baptist Church's Pastoral Staff page. We are proud to introduce our dedicated and compassionate team who work tirelessly to guide and serve our congregation. With their valuable expertise and commitment, our Pastoral Staff plays a vital role in nurturing the spiritual growth and well-being of our church community.
Rev. John Smith - Senior Pastor
As the Senior Pastor at Central Baptist Church, Rev. John Smith provides spiritual leadership and guidance to our congregation. With over 20 years of experience in pastoral ministry, Rev. Smith brings a wealth of knowledge and wisdom to his role. Through engaging sermons, counseling sessions, and leading various ministries, he helps individuals deepen their faith and find solace in their spiritual journey.
Rev. Smith holds a Master's degree in Divinity from the esteemed Seminary College and has a passion for community outreach. His vision is to foster an inclusive and welcoming church environment where people from all walks of life can come together to worship, learn, and support one another.
Rev. Sarah Johnson - Associate Pastor
Rev. Sarah Johnson serves as an Associate Pastor, focusing on youth and family ministries. With a deep devotion to nurturing young minds and fostering a sense of community among families, Rev. Johnson brings innovative approaches to connect with our younger members. She coordinates engaging youth programs, mentorship opportunities, and family-oriented events that strengthen our church family bonds.
Equipped with a Bachelor's degree in Theology and extensive experience working with teenagers, Rev. Johnson inspires and encourages young individuals to develop their faith journey. Her compassion, understanding, and unwavering support make her a beloved figure among our youth and their parents.
Rev. David Anderson - Worship Pastor
Rev. David Anderson leads our vibrant worship community as the Worship Pastor. With a background in music and a passion for creating meaningful worship experiences, Rev. Anderson curates inspiring worship services that resonate with our congregation. His exceptional musical talents, combined with his dedication to spiritual enrichment, uplift our worshippers each week.
Rev. Anderson holds a Master's degree in Music Ministry and is an experienced worship leader and composer. He embraces diversity in worship styles, offering a blend of both traditional hymns and contemporary music. Through his leadership, our worship services become powerful moments of spiritual connection and celebration.
Rev. Emily Davis - Outreach Coordinator
Rev. Emily Davis serves as our Outreach Coordinator, spearheading initiatives aimed at making a positive impact in our community. With a deep commitment to social justice and compassion, Rev. Davis leads various outreach programs that address critical needs in our society. Through partnerships with local organizations and volunteering opportunities, she mobilizes our congregation to actively engage in acts of service and kindness.
Rev. Davis holds a Master's degree in Social Work and brings her expertise in community development to her role. Her passion for making a difference in the lives of others inspires our congregation to live out their faith in practical ways.
Rev. Michael Thompson - Counseling Pastor
Rev. Michael Thompson serves as our Counseling Pastor, providing compassionate guidance and support to individuals and families facing various challenges. With a background in counseling psychology and pastoral care, Rev. Thompson offers a safe and welcoming space for individuals seeking emotional and spiritual healing.
Whether it's navigating personal crises, grief, or relationship issues, Rev. Thompson's empathetic approach helps individuals find solace and discover new paths towards wholeness. He offers counseling sessions, support groups, and workshops tailored to specific needs, ensuring that no one walks alone in their journey.
Join Us on Our Faith Journey
We invite you to explore Central Baptist Church and discover the strength, guidance, and fellowship our Pastoral Staff offers. Whether you are seeking spiritual nourishment, community involvement, or a place to call home, our team is here to support you every step of the way.
As you browse our website, take a look at our various ministries and upcoming events. Join us for worship services, enjoy the uplifting music, and engage in meaningful conversations. Together, let's embark on a faith journey that enriches our lives and inspires positive change in our community.
For more information or to connect with our Pastoral Staff, please feel free to reach out to our church office or visit us in person. We look forward to meeting you!